Paul the Apostle, who admonished countless Christians to "adorn themselves in modest apparel," describing himself as "naked?"
Yes, or at least facing episodes of "nakedness" in his Ministry. One that spanned 35 years or so of hard labor for Jesus. And Paul wrote these words (in our text) some twenty-one years into that career serving our dear Lord.
Here's how the list ends: "In weariness and painfulness, in watchings often, in hunger and thirst, in fastings often, in cold and NAKEDNESS. Beside those things that are without, that which cometh upon me daily, the care of all the churches." 2nd Corinthians 11:27-28
In Greek "nakedness" is the word "gumnotes."
See in it the "root" of our word "gymnasium." That's because the Romans exercised (at the "gym") absolutely naked! That's how they ran their races at the "Olympics," too.
But Paul, that way, "in nakedness?"
It surely would have been an involuntary situation.
Forced by circumstances into nakedness.
Notice that in our Text verse the word "cold" is linked to "nakedness" by the conjunction "and." As here in the King James Version: "in cold and nakedness."
I believe Paul had times when his wardrobe was so sparse, so insufficient, scanty … that he was "cold" and virtually "naked," insofar as human comfort was concerned.
Yes, in all his thousands of miles of traveling (15,000 at least, all by foot or slow sailing ships) Paul's clothing grew old and worn, badly raveled. To the point he termed a state of "nakedness."
And he apparently for long stretches of time had no friends to help him replace his clothing! Or maybe his friends just had no way to get such support to him. He certainly went to some extremely remote locations, preaching the Word!
And apparently no money of his own to buy such garments!
In such coldness.
And now, "nakedness!"
This gives added pathos to Paul's plea to Timothy: "The cloke (outer coat, to warm the body) that I left at Troas with Carpus, when thou comest, bring with thee." 2nd Timothy 4:13
And Timothy, please … "come before cold weather!" Yes, "Do thy diligence to come before winter." 2nd Timothy 4:21
Yet remember, Paul was a "tentmaker" by trade. And helped supplement his income that way at times. In Corinth, for example. When introducing us to Aquila and Priscilla (Acts 18:2-3) Scripture informs us: "And because he (Paul) was of the same craft, he abode with them (Aquila and his Wife), and wrought (worked, earned some money): for by their occupation they were tentmakers." So I am saying Paul might could have made his own clothing, though rough and coarse and scratchy. But he did not even have the material to do that, apparently!
Nakedness!
How sad.
Yet he kept preaching the Word!
He did not get discouraged.
Likely this list would have never been written … had some false teachers in Corinth not accused Paul of being a false prophet, an insincere, spurious preacher!
I have admired him for years. But now, after this study, my love and respect for Paul have grown exponentially, as they say.
He did not quit!
— Dr. Mike Bagwell
I once heard a godly old Preacher say, "The test of character is what it takes to stop you!"
If so … Paul clearly passed the test!
***
I invite you to this Class … anyone within driving distance.
For more information, call or text 770-844-7627.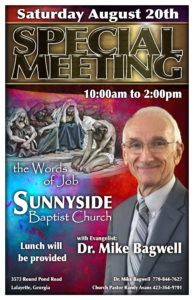 And if you cannot come, please pray for the Word of God to have "free course" as I teach and preach.