Of course, everyone knows the "subject" of the Book of Job!
Right?
It's about "suffering!"
Especially the suffering of a good man, one who had done no (major) wrong!
The Book has often been nicknamed: the Saga of the "Innocent Sufferer."
And Job's 42 chapters do indeed say a whole lot about suffering.
BUT … I suggest this morning that Job is not fundamentally about the issue of suffering!
Rather, and I feel confident in this assertion, it's about FAITH!
Faith in God.
Maybe one could say "faith in God while suffering" … but still FAITH!
I say that for several reasons.
One is that the issue of the reality of Job's faith arose before any calamities ever came his way.
In Job 1:1, for example. "There was a man in the land of Uz, whose name was Job; and that man was perfect and upright, and one that feared God, and eschewed evil."  Here "fearing God" is the Old Testament way of saying Job had faith. Faith accompanied by works, really. Job believed!
Then later in chapter 1 (specifically verse 8), faith again is discussed. This time by God Himself, in reference to Job. The Lord there asked: "Hast thou considered my servant Job, that there is none like him in the earth, a perfect and an upright man, one that feareth God, and escheweth evil?" Clearly, no doubt, faith is again the focus!
Job … "perfect" … toward God.
And "upright" … toward man.
The results of FAITH in God and His Messiah, the coming Lord Jesus!
The "suffering" part of the Book comes later.
As a "test" to Job's already existing faith.
And subsequently (through the entire Book) no matter the trauma that comes … Job's faith (and resultant faithfulness) are the delight of God's Eye!
And by Book's end, the man whom God loved to call "My servant" has grown immensely in that character quality we still call … "faith."
Two times in chapters 1 and 2 Job is dubbed "My Servant," by the Lord obviously.
But four times in chapter 42 he is so called, "My Servant." 
I sometimes say Job's faith grew twofold through the Book, as the plot developed.
May I say this to you. It looks like God was more concerned in developing and strengthening Job's FAITH than in providing for Job's comfort!
God want us faithful … more than He wants us happy!
Plus, "hard times" in life can contribute to one's faith being developed, augmented.
Like Job said, of God: "When He hath tried me, I shall come forth as gold."  (Job 23:10)
Though not yet written when Job agonized on his ash heap … Simon Peter's words would have been so very applicable. "Wherein ye greatly rejoice, though now for a season, if need be, ye are in heaviness through manifold temptations: that the trial of your FAITH, being much more precious than of gold that perisheth, though it be tried with fire, might be found unto praise and honour and glory at the appearing of Jesus Christ: Whom having not seen, ye love; in whom, though now ye see him not, YET BELIEVING, ye rejoice with joy unspeakable and full of glory." 1st Peter 1:6-8, faith!
Wow!
— Dr. Mike Bagwell
Hey everyone, tomorrow is the day …
Pray for the Class, please.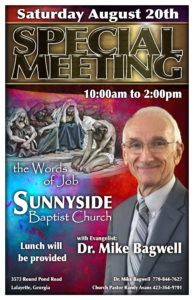 ("Click" the poster and it will enlarge for better clarity.)