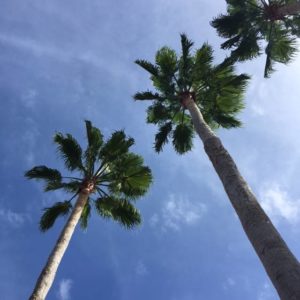 Palm trees, Orlando, Florida, picture made a few weeks ago when Debbie and I visited "The Holy Land Experience" and saw a scale model of the City of Jerusalem!
Today's Bible Study Lesson …
I knew the Bible talked about trees, of course, but 358 times? That's exactly how many, if I counted correctly earlier this morning.
For example, Genesis opens with God creating them, trees. "And God said, Let the earth bring forth grass, the herb yielding seed, and the fruit TREE yielding fruit after his kind, whose seed is in itself, upon the earth: and it was so." Genesis 1:11, the first mention of trees in Scripture.
And Revelation closes with a reference to trees, a tree. "Blessed are they that do his commandments, that they may have right to the TREE of life, and may enter in through the gates into the city." The City here is New Jerusalem, Revelation 22:14, the last mention of trees in the Bible.
And in the middle? Jesus died on a Tree! "Christ hath redeemed us from the curse of the law, being made a curse for us: for it is written, Cursed is every one that hangeth on a TREE." Galatians 3:14 (Add 1st Peter 2:24 here as well. "Who his own self bare our sins in his own body on THE TREE, that we, being dead to sins, should live unto righteousness: by whose stripes ye were healed." Speaking of the Lord Jesus, obviously.)
Wow!
I've ordered a Book about trees, from a secular scientific viewpoint.
And I already own a book about trees, from a spiritual perspective. (Phillip Keller's "As a Tree Grows," comparing the development of trees to the slow but steady grown in a Christian's life!)
I really want to preach on trees sometime soon, a whole series of sermons I'm anticipating!
Yes, "men as trees!" See Mark 8:24.
I don't know yet how many species of trees are listed in the Bible, but the number is significant.
For example: "But I am like a green olive tree in the house of God: I trust in the mercy of God for ever and ever." Psalm 52:8
"Green," fresh and vibrant!
"Olives," a symbol of the Holy Spirit, Christians being Spirit indwelt.
"House of God," not forsaking the assembling of ourselves together!
And how can anyone live such a sterling testimony for Jesus, alive and beneficial and faithful to Church … and Spirit associated, Spirit filled?
Read the last clause of the verse for the answer … "I trust in the mercy of God for ever and ever." Because of God's Grace, Mercy, Love!
Amen!
Even in the Bible, wicked men are compared to trees! "I have seen the wicked in great power, and spreading himself like a green bay TREE." Psalm 37:25
I have a lot to learn about the subject at hand.
But it is going to be an enjoyable study!
Here, symbolically, Jesus is likened to a refreshing "apple Tree!" Song of Solomon 2:3 … "As the apple TREE among the trees of the wood, so is my beloved among the sons. I sat down under his shadow with great delight, and his fruit was sweet to my taste."
More to come … the Lord willing.
What kind of tree are you?
Jesus will close our lesson today, His Words from the Sermon on the Mount. "Even so every goodTREE bringeth forth good fruit; but a corrupt TREE bringeth forth evil fruit. A good TREE cannot bring forth evil fruit, neither can a corrupt TREE bring forth good fruit. Every TREE that bringeth not forth good fruit is hewn down, and cast into the fire." Matthew 7:17-19
— Dr. Mike Bagwell