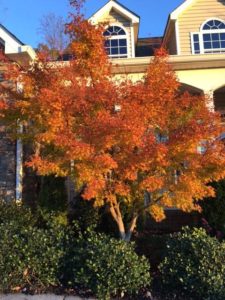 The colors of Fall! I love this Season of the year, always have.
The adjective is "multi-colored."
And it seems to me that everywhere we've been this Autumn the "colors" have been spectacular. As if our Creator had a paintbrush and had worked incessantly, the Artist of artists!
I stood a few weeks ago atop Lookout Mountain, Georgia. At a place called Rock City, a tourist attraction but also a vantage point from which one can see several States. The view, the colors were majestic!
Again I say, "multicolored."
Why am I so emphasizing that word this morning?
Because there is a corresponding (parallel) Greek word that thrills my soul. It is spelled "poikilos," and means "diverse, variegated," quite literally "of various colors!"
For example, 1st Peter 1:6 reads: "Wherein ye (Christians) greatly rejoice, though now for a season, if need be, ye are in heaviness through MANIFOLD TEMPTATIONS." Manifold trials, manifold hardships! Even various kinds of trials, yes "multi-colored!"
But then, praise the Lord, Peter also tells us: "As every man hath received the gift, even so minister the same one to another, as good stewards of the MANIFOLD GRACE of God." 1st Peter 4:10, look at this! Though we do have multicolored testings … we also experience the manifold Grace of God! Grace that comes in every imaginable color! Grace, the songwriter concludes, "Grace for every need!"
Wow!
Should we look elsewhere in Scripture we would soon discover God also has "Manifold Wisdom!" Here's Ephesians 3:10 … "To the intent that now unto the principalities and powers in heavenly places might be known by the church the MANIFOLD WISDOM of God."
And Luke 18:30 (in context) tells us the "MANIFOLD REWARDS" of serving the Lord! Read it when you have time, the whole paragraph in which it sits.
Next time you see the colors of Fall, a beautiful tree or broad landscape … soak in the beauty, then thank God that for all the trials we face … there are a dozen "colors" of Grace to match them!
Hallelujah!
— Dr. Mike Bagwell
If the Lesson is a blessing, someone let me know! Text me at 770-844-7627. I sincerely love hearing from you, our readers.