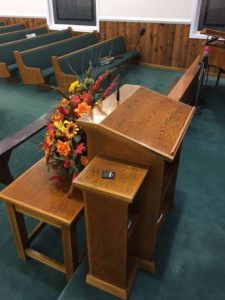 Here's where I'm preaching this week, behind a pulpit in Summerville, Georgia. I made this picture last night (Sunday Evening) after the service. The old-timers used to call this piece of furniture the "sacred desk!"
Today's Bible Lesson …
I love pulpits!
Years ago Dr. Cyrus Ingersoll Scofield authored a book of his sermons and named the compilation "In many Pulpits." I have that little volume in my library yet today. A good book, by the way! (I heartily recommend his Bible too, his notes. He is premillennial in his eschatology, his belief about "last things.")
I as well, solely because of God's marvelous Grace, have been privileged to stand in many pulpits.
The place from which God's Word is proclaimed.
Then I wondered, "Is the word in the Bible, the noun pulpit?"
It is.
But only once!
And it was in use that day, when named in Scripture!
"And Ezra the scribe stood upon a PULPIT of wood, which they had made for the purpose; and beside him stood Mattithiah, and Shema, and Anaiah, and Urijah, and Hilkiah, and Maaseiah, on his right hand; and on his left hand, Pedaiah, and Mishael, and Malchiah, and Hashum, and Hashbadana, Zechariah, and Meshullam." Nehemiah 8:4, these thirteen men being helpers to the Preacher Ezra! Men of God still need capable, godly helpers!
The next two verses further clarify … "And Ezra opened the book in the sight of all the people; (for he was above all the people;) and when he opened it, all the people stood up: and Ezra blessed the LORD, the great God. And all the people answered, Amen, Amen, with lifting up their hands: and they bowed their heads, and worshipped the LORD with their faces to the ground." Worshipping, obviously praising the Lord!
And yes, they are expounding the Word, too … "They caused the people to understand the law: and the people stood in their place." Nehemiah 8:7, likely precise verse-by-verse Bible teaching from the Old Testament Book of Deuteronomy.
That very day over that pulpit, as Scripture was exposited (preached) … a great Revival ensued!
In summary … "So they read in the book in the law of God distinctly, and gave the sense, and caused them to understand the reading." Wow, Nehemiah 8:8.
I can find no other reference to a pulpit in the Bible.
Now here's some etymology. The noun "pulpit" is "migdal" in Hebrew, meaning a "tower!" Apparently this pulpit was elevated. On a platform perhaps. The root verb involved here, "gadal," means "to become important, to become great!" That's significant.
Oh, that America would return to a love of preaching!
Oh, that much of the professing Church would too!
Paul firmly commanded Timothy, under Divine Guidance … "Preach the word; be instant in season, out of season; reprove, rebuke, exhort with all longsuffering and doctrine." 2nd Timothy 4:4
I say from deep within, "Thanks be unto God for preaching, and (secondarily) for PULPITS from which such action occurs!"
— Dr. Mike Bagwell