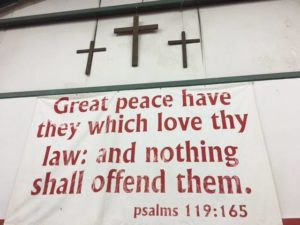 This banner was at the front of an auditorium where I preached recently, last Friday night to be more specific. Sort of an unusual verse to be highlighted in such a place!
Today's Bible Lesson …
The verse truly is amazing, in a collection (Psalm 119, the longest chapter in the whole Bible) of 176 verses, all (or nearly so) of which magnify the incomparable Word of God!
"Great peace have they which love thy law: and nothing shall offend them."
Psalm 119:165
"Loving" God's Law (a Bible term often indicating ALL of Scripture) is typical for the 119th Psalm. So are obeying it and treasuring it and pondering it, among many other verbs and participles. Such as: "Thy word have I hid in mine heart, that I might not sin against thee." The psalmist speaking (praying) directly to the Lord, Psalm 119:11.
But here the precise result of loving the Bible … "nothing shall offend them," is unique.
The essence of this little jewel, which is really a promise from the Lord to all Scripture lovers, hinges on the little verb "shall offend." In Hebrew it's "mikshol," and means "to stumble!"
(I realize that one will also be less "offended" … in the sense of not being emotionally "hurt" as easily … by immersing himself or herself in the Word of God. There is no doubt about this fact. It is used this way 3 times in our Bible.)
But I am also saying that 11 out of 14 times in the King James Version of Scripture "mikshol" is translated "fall, be ruined," or "stumblingblock!"
Psalm 119:165 is clearly guaranteeing a Bible lover that he or she will not STUMBLE along the way, faithfully following the Lord!
Furthermore … "mikshol" is actually derived from a root verb, "kashal," which means "to fall" (27 times), "to stumble" (19 times), "be cast down" (4 times), "to be feeble" (4 times), also (1 or 2 times each) "overthrown, ruined, decayed, failed, weakened." Wonderful!
Yes, there is a direct correlation between one's feelings for the Bible, his "devotion to" and "eagerness for" the Book, and that person's success in not falling, not even stumbling or tottering as he pursues his Christian course of life!
No wonder that put that banner at the front!
— Dr. Mike Bagwell