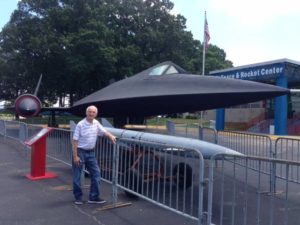 This is a retired United States Air Force (really Central Intelligence Agency) "spy-plane," known as the SR-71. It was used for reconnaissance work for years, "looking in" on the enemies of our nation. Built by the Lockheed Corporation, the thing could fly at Mach 3, around 2,000 miles per hour!
Today's Lesson …
This photo, made last year in Huntsville, Alabama (as Debbie and I returned from a Revival Meeting) shows the sleek machine in black. It was sort of a forerunner of today's "stealth" equipment.
All this primed my thoughts about "spies" in the Bible.
And the very idea of espionage. This is a French word for "spying," that's all.
If you remember in Numbers chapter 14 Moses dispatched some spies to view the Promised land. But only Joshua and Caleb felt the territory could realistically be conquered, even though God had said otherwise.
Then some years later Joshua sent spies to study the City of Jericho, where Rahab lived. "And Joshua the son of Nun sent out of Shittim two men to spy secretly, saying, Go view the land, even Jericho. And they went, and came into an harlot's house, named Rahab, and lodged there." Joshua 2:1
All the foregoing … spying for military purposes.
But there's another aspect of spying, called introspection, I'd like to mention today.
Like "self-examination," for starters.
One does not need a spy-plane for this, just a good conscience!
Paul, in 2nd Corinthians 13:5, commands us: "EXAMINE yourselves, whether ye be in the faith; PROVE your own selves. Know ye not your own selves, how that Jesus Christ is in you, except ye be reprobates?" Searching one's own validity as a Christian!
Paul again, concerning the Lord's Supper this time: "But let a man EXAMINE himself, and so let him eat of that bread, and drink of that cup." 1st Corinthians 11:28, important!
Both the New Testament texts above use verbs that imply "thorough" investigation, looking for any spurious matter within one's heart. "Peirazo" and "dokimazo" to be specific.
Then again, here's another type of "spying," … allowing the Lord Himself to "check" our lives, helping us be more pure and holy. In fact, asking Him to do so!
Psalm 26:2 prays it best: "EXAMINE me, O LORD, and PROVE me; TRY my reins and my heart." Pretty direct, plain, isn't it? Still, looking for that which is genuine.
And Psalm 139:23-24 say (pray) essentially the same thing. "SEARCH me, O God, and know my heart: TRY me, and know my thoughts: and see if there be any wicked way in me, and lead me in the way everlasting."
Wow!
Just some thoughts this Friday I wanted to share. If you'd like to reciprocate, text me at 770-844-7627. "Living for Jesus," what a noble goal.
— Dr. Mike Bagwell