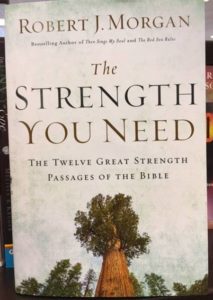 I was quickly browsing last week, in the midst of my Christmas shopping. I (at Barnes and Noble, of all places, Chattanooga, Tennessee) almost always go to the shelves of Christian books labeled "New Arrivals." And there I saw this title. I am somewhat familiar with the author, but his idea this time was phenomenal!
Today's Bible Lesson …
The concept of the pictured Book focuses on the "STRENGTH" of the Lord. Mr. Morgan essentially uses each chapter of the book to highlight what he feels is one of the Bible's 12 greatest Verses on strength!
The table of contents alone is inviting!
All this is significant to me because last night (in a Revival Meeting) just outside Elizabethtown, Kentucky, I preached from one of the most thorough Verses in all Scripture (which has 31,102 verses all total) concerning the "Power" of God, power available to us!
That verse?
I know you're wondering.
"Finally, my brethren, be strong in the Lord, and in the power of his might." Ephesians 6:10, King James Version, word for word.
The holy Spirit uses three different Greek words, synonyms, for the "ability" of God!
"Strong" incorporates "dunamis." Our word "dynamite!"
"Power" utilizes "kratos," the power God used when He "created" the world! This is usually thought of as "demonstrated, manifested" power!
Then comes "might," in Greek spelled "ischus." Which often refers to sheer brute strength! Muscle power, which God apparently possesses in abundance, being almighty!
And, again I say, all these types of power, forms of ability are OURS as we live for Jesus!
Wow!
But the little book uses another verse which is one of my all-time favorites!
"For the joy of the LORD is your strength." Nehemiah 8:10, spoken by Ezra to a group of Jews on a great day of national Revival! Here "strength" (Hebrew "maoz") means "hard, firm, prevailing." Something that overcomes! And "joy" (a rare word indeed, "chedvah," found only 3 times in the Bible) means "gladness."
Friends, do not today try to live in your own power, strength.
Borrow some … from God!
Live "tapped into" His great Resources!
Then, like Paul, you may be able to say: "I can do (ischus) all things through Christ which strengtheneth (dunamis) me." Ephesians 4:13
I sense this Power right now, as I type these paragraphs!
"Abide" in Jesus today; consciously drawing, appropriating, living on that great inexhaustible Power of His!
Furthermore … this is not something you DO (on your own), rather, you allow Him to live through you! Yes "be strong" is a passive verb … "Finally, my brethren, be strong in the Lord."
He will "be strong" you!
— Dr. Mike Bagwell
If these thoughts prove helpful to anyone … let me know. My text number is 770-844-7627. I enjoy hearing from you, our readers, fellow students of the Word of God.