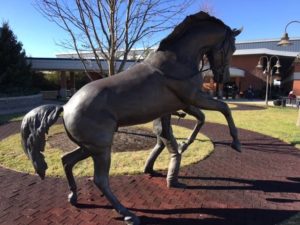 One of my Grandsons, Jeremiah, asked me (while I was in Kentucky) to see if I could get a picture of some horses, race horses if possible. He loves animals. So … I have sent him a few photos that might help. One appears above. It was made early yesterday afternoon.
I will continue with my "photo" related Lessons a few more mornings. But then, with the beginning of the new year, I shall return to writing the normal verse-by-verse Bible expositions.
Today's Bible Lesson …
Yes, the Bible mentions horses.
Pharaoh's army was riding horses (many of them anyway) when they drowned in the Read Sea! Exodus 15:1 tells us, in a note of praise: "Then sang Moses and the children of Israel this song unto the LORD, and spake, saying, I will sing unto the LORD, for he hath triumphed gloriously: the horse and his rider hath he thrown into the sea."
We learn from Nehemiah 3:28 that the ancient City of Jerusalem actually had a gate named after these majestic animals, "the horse gate!" Read it, as it describes one of the work crews rebuilding the walls: "From above the horse gate repaired the priests, every one over against his house."
Biblically horses are known for their strength. But God is so great that: "He delighteth not in the strength of the horse: he taketh not pleasure in the legs of a man." Then what thrills God? The next verse: "The LORD taketh pleasure in them that fear him, in those that hope in his mercy."
Wow!
In Revelation 6:2 the antichrist appears, riding a horse to war, in his wake famine and bloodshed and chaos! "And I (John) saw, and behold a white horse: and he that sat on him had a bow; and a crown was given unto him: and he went forth conquering, and to conquer." He had a bow, but no "arrows!"
And when Jesus comes again, all the way to earth (to the Mount of Olives) … He will be riding a great white horse! "And I saw heaven opened, and behold a white horse; and he that sat upon him was called Faithful and True, and in righteousness he doth judge and make war. His eyes were as a flame of fire, and on his head were many crowns; and he had a name written, that no man knew, but he himself. And he was clothed with a vesture dipped in blood: and his name is called The Word of God." This is Jesus, all right, Revelation 19:11-13.
But the fullest paragraph in the Bible about horses is found in the Book of Job. And it describes a war-horse! "Hast thou given the horse strength? hast thou clothed his neck with thunder? Canst thou make him afraid as a grasshopper? the glory of his nostrils is terrible. He paweth in the valley, and rejoiceth in his strength: he goeth on to meet the armed men. He mocketh at fear, and is not affrighted; neither turneth he back from the sword. The quiver rattleth against him, the glittering spear and the shield. He swalloweth the ground with fierceness and rage: neither believeth he that it is the sound of the trumpet. He saith among the trumpets, Ha, Ha; and he smelleth the battle afar off, the thunder of the captains, and the shouting." Job 39:19-25
He is ready for battle, eager in fact!
And not the least bit afraid!
And this ultra-complimentary Passage is in Job, why?
The horse is a tribute to the man Job, I think. Who has stood so strong and fought so valiantly! Never cursing God, not once. Though the devil certainly tempted him to do so, or predicted he would!
Oh, to be a war horse for Jesus' Sake!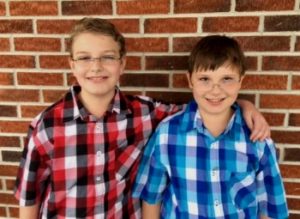 Jeremiah (on the left, his twin brother Michaiah on the right) … this lesson is for you too, little Buddy.
(He was saved last year in Bible School! Then wanted to be baptized. My prayer is that God will use him for the Work of the Kingdom. That's my prayer for both the boys, of course.)
— Dr. Mike Bagwell
Better known as "Pa-pa" to a few.