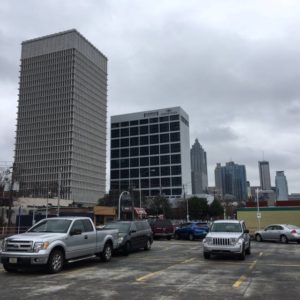 Atlanta, Georgia, earlier this month.  While driving to a Revival, I had left behind a box of Scripture Booklets that I needed, that were necessary in fact. And Debbie and I met there, in the heart of the City, to solve the problem! She kindly brought the material to me.
A Bit of News, first …
This is a travel day.
I leave in an hour or two for Kentucky.
Liberty Baptist Church near Elizabethtown, Pastor Mark Widemann, a three night Revival Meeting!
For that reason, I needed to delay writing my Lesson this morning.
I felt it urgent to get in the car and go … not knowing what kind of traffic situation I'll face as I drive through several major cities.
Well, I no sooner typed that word "CITIES," than a thought came rushing into my mind!
Today's Bible Lesson, after all …
Did you ever think of how Jesus loved Cities, one in particular? ("O Jerusalem, Jerusalem, thou that killest the prophets, and stonest them which are sent unto thee, how often would I have gathered thy children together, even as a hen gathereth her chickens under her wings, and ye would not!) His Words here are found in Matthew 23:37.
And did you ever realize how the Apostle Paul concentrated his work for Christ in the Cities of the Roman Empire? (Corinth, Thessalonica, Athens, Ephesus, Philippi, and of course Rome, these being a few examples!)
My point today is simple.
Have you ever prayed for a City?
The metropolitan area nearest you, for instance.
Today I'll (the Lord willing) drive through Chattanooga, Nashville, nearly to Louisville! Before the week is over I hope to be near Cincinnati!
Pray for these places!
That God will save souls there.
Send laborers there.
Withhold iniquity there.
Give Revival there.
Listen to Paul one more time. "But I will tarry at Ephesus … for a great door and effectual is opened unto me, and there are many adversaries." 1st Corinthians 16:8, discussing a City!
Learn a little about the City which God has laid on your heart.
It could even be a city overseas.
Tokyo?
London?
Even Moscow?
I know one. The one Jesus referenced earlier in the Lesson. "Pray for the peace of Jerusalem: they shall prosper that love thee." Psalm 122:6
Well, the rest is up to YOU and the HOLY SPIRIT!
Wow, intercessors for the cause of Christ!
Amen.
— Dr. Mike Bagwell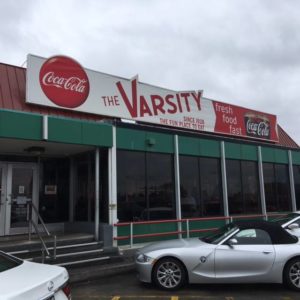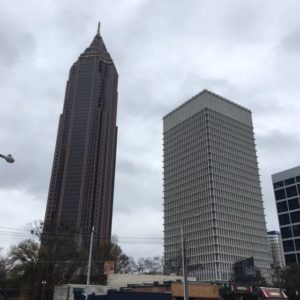 We met that day at a popular fast-food place in Atlanta called the Varsity. Near the Georgia Tech Campus … where both these photos were taken. In a city …