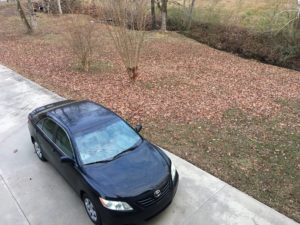 I just made this picture, right out the front door. Nothing unusual about it, I guess … except the weather forecasters are all SHOUTING snow! Now look at that yard, the sloping hill down to the creek, the driveway. Do YOU see any sign of … snow?
But still, winter weather WARNINGS are in effect in all our area!
Today's Bible Lesson …
The snow warnings in north Georgia have NOT gone unheeded! Again, even though no empirical evidence exists indicating the coming (they say) storm!
The grocery shelves are empty, the milk and bread isles anyway!
Schools have been dismissed today, that decision having  been made as early as yesterday afternoon, with not a flake of snow having hit the ground, not yet!
But the weather man's (or woman's) warnings have been taken seriously!
All this is good, I suppose. It helps keep us safe.
After all, science is always on target, we've been told. Especially the science of meteorology!
BUT … seems we don't take God's warnings all that seriously!
Ezekiel the Prophet centuries ago preached, quoting God Himself: "Son of man, I have made thee a watchman unto the house of Israel: therefore hear the word at my mouth, and give them WARNING from me." Ezekiel 3:17
Warning from God!
Another: "I tell you, Nay: but, except ye repent, ye shall all likewise perish." Jesus's wise Words (of Warning), quoted from Luke 13:3.
This one is particularly powerful! "And whosoever was not found written in the book of life was cast into the lake of fire." Revelation 20:15
The skeptical world chimes: "But there's no sign of any such approaching danger, the Judgment of God!" (Remember my picture above, please.)
Wow!
Whose warnings should carry the most weight?
The Weather Channel's … or Almighty God's?
Think about it.
— Dr. Mike Bagwell
I end with John 3:36, Jesus again: "He that believeth on the Son hath everlasting life: and he that believeth not the Son shall not see life; but the wrath of God abideth on him." God's Wrath, that means eternity in Hell Fire!
What a warning!