Last night's parking, part of it … New Hope Baptist Church
I'm writing this from a motel room in Roanoke, Virginia. I could not get an early morning flight home. But that afternoon flight is sounding pretty good right now! Debbie is packing, even as I write … so we can leave for next week's Revival! She will meet me at the airport (Chattanooga) and we'll soon be "on our way!"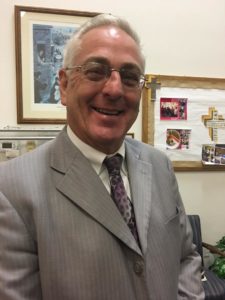 And yet (this being Saturday) I've just been thinking of the dozens and dozens of men (Pastors) with whom I work every year. God's men, each leading a "flock" of sheep, spiritually speaking. In the photo you see one such Brother … Pastor David McNeill, Pastor of New Hope Baptist here in Roanoke. He sure has been sweet to me the past two years! I made the picture in the vestibule of the Church last night after the Meeting ended.
Yes … there's a "point" to my deliberations this morning!
I am trusting that each of you our "readers" (our "friends" I might add) today has such a Pastor. A Spirit-led man who feeds you the Word of God, faithfully so. One whose life exemplifies our Lord and Saviour, best a human can anyway.
IF SO … would you take some time and pray for him today, your Pastor? That God will help him with the heavy "load" he often carries. That he will be clearly led of the Lord … about the Sermons tomorrow, the Text. That the Godhead will meet that "unknown" need in his life.
After all, "Pastors" are God's "gift" to His Church! In Ephesians chapter 4, Paul is telling us some things the resurrected Jesus has done. "And He (Jesus) GAVE some, apostles; and some, prophets; and some, evangelists; and some, PASTORS and TEACHERS." Verse 11, where it appears (grammatically) that the two nouns "pastors" and "teachers" have linkage, "go together." In other words, a good Pastor is also a good "teacher." At least he is Biblically charged with both duties!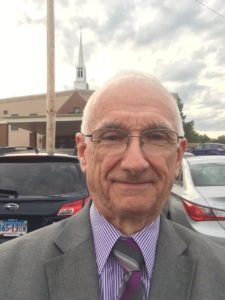 Oh, by the way, God gave "evangelists" to the Church also! But they are not the subject of today's lesson. And let me say this to all the Pastors who may read this little article today, we HONOR you for what you do for Jesus! Where would we evangelists be … were it not for Pastors who trust us enough to put us in their pulpits? Debbie and I pray for Pastors every day we live. The picture? I don't what got "into" me, but last night before the Service I made this myself! The camera in the cellphone somehow has this little indicator you can tap and it will make the picture in reverse! Wow, technology! (The black car behind my shoulder, called an "outback," is what I drove these two days in Virginia! It belongs to the Pastor's Wife, I understand. What hospitality!)
Remember, pray for him sometime today, your Pastor.
— Dr. Mike Bagwell
Yes, I will soon be writing our verse-by-verse lessons again. I'm just praying and waiting on a clear leading from the Lord. Our last two "projects, journeys" have focused on Deuteronomy … then Ezekiel! Massive Books of Scripture! I've just taken a little break.