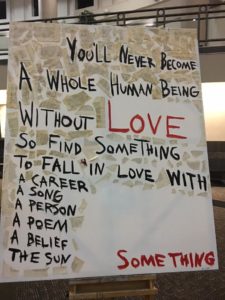 I saw this sign in an airport yesterday morning. Early … me being in a hurry to rush to security as well! But I just HAD to stop a second, grab my cellphone and make this snapshot!
Talk about a picture being worth a thousand words!
Or a picture being worth a whole Sermon, well not literally!
A rather BAD sermon, too!
In fact, I'd like to respond.
With one verse of Scripture.
"But seek ye FIRST the kingdom of God, and his righteousness; and all these things shall be added unto you." Matthew 6:33
This verse says to me that if a man or woman loves JESUS, if one makes CHRIST the "center" of his life … everything else "falls into place!"
Yes, Jesus can make you a "whole human being," to quote the sign (in the middle of that busy airport lobby) … where everyone could see it!
When in love with Jesus … career becomes more meaningful!
Songs sweeter to sing!
People more valuable!
Poems more understandable and applicable!
Beliefs truth-centered rather than feeling-centered!
(I'm going down the list … from that silly sign.)
And the sun? Oh yes, Psalm 19 pictures the "sun" as a type of Jesus, like a strong man running a race! Or a bridegroom going for his bride!
Yes!
Give Jesus the preeminence in all things!
Colossians 1:18 says it best: "And He is the Head of the body, the church: Who is the beginning, the Firstborn from the dead; that in all things He might have the preeminence."
Amen!
Whom do you love, most of all, today?
— Dr. Mike Bagwell
Any "input" today, "feedback" from a reader? A comment or two? My text number is 770-844-7627. I'd enjoy hearing from someone.