Our Lord, teaching His Disciples to pray, added these words to the "model" He gave … "Give us this day our daily bread." Matthew 6:11 (And Luke includes the same command as well, "Give us day by day our daily bread." Luke 11:3)
No doubt this can be seen as trusting God for all our groceries! He being the Creator, Provider, Sender of Rain, etc. over all the earth. That's one reason why we Christians ask a "blessing" and give "thanks" over every meal we eat, we enjoy.
But, surely, "our daily bread" includes things spiritual too!
If so, are YOU gleaning from God's Manna Book (also known as the Holy Bible) every single day?
I surely want to do so.
And have (sincerely) for years.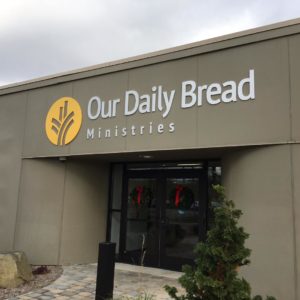 Last year (this very week in fact, exactly) I was preaching Revival in the Grand Rapids, Michigan area. And while here I visited a Ministry named "Our Daily Bread."
It was founded by a godly old Preacher named Dr. Martin R. DeHaan. Born in Michigan (a city called Zeeland) in 1891 (March 23), Dr. DeHaan lived a long and productive life (to the Glory of God), having now gone to Heaven to be with the Lord he so loved. He died in 1965, December 13.)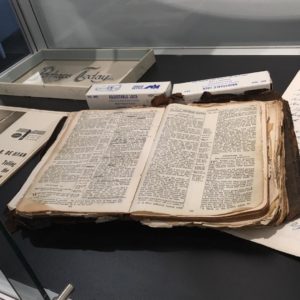 He preached each Sunday on a program named "The Radio Bible Class." He loved the great fundamentals of our Faith, the Word of God being his infallible Guide! Here's one of his (precious to him) old Scofield Study Bibles, King James Version of course.
His motto for life was always displayed on his desk (you can see it in the background in the photo above) … "Perhaps Today," obviously referring to the imminent Coming (Second Coming) of Jesus!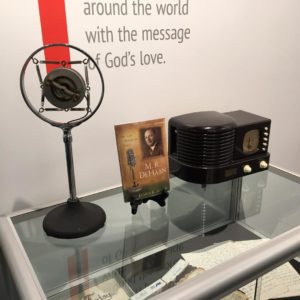 I can remember his distinctive (coarse) old voice even now as I type here many years later! I still have a few of the Bible Study Booklets he published and mailed to his supporters month after month!
Wow!
It just might be that I have tried to spend some time in God's Word (daily) since those pre-teen years. And I owe some of that propensity to old Dr. DeHaan!
Friends, may I urge you to also glean every 24 hour period in your life from the Book … The Inspired Word of God? Make it "YOUR DAILY BREAD" too!
— Dr. Mike Bagwell