Our day began with the phone alarming at 5:00 this morning! And an 11 1/2 hour trip ahead of us, from Newaygo, Michigan to Tunnel Hill, Georgia! After a precious week of Revival, I might add.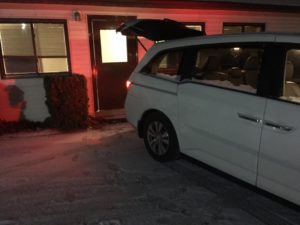 Ready to load!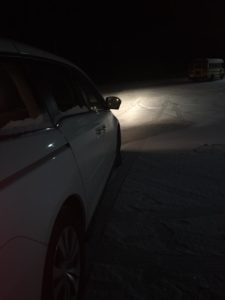 Ready to leave!
Do you see the snow?
Not as much as some years, but still snow!
Surprisingly, this sight (the snow) triggered the thought for today's Bible nugget.
God is the Speaker, questioning Job the old patriarch, godly man that he was. "Hast thou entered into the treasures of the SNOW? or hast thou seen the treasures of the hail?" Job 38:22
Now …
I'm writing you at 9:45 this evening, after the Lord has given us a safe trip home.
We drove several hours through that snow, heavy at times … heading south.
Which gave me plenty of time to consider it … the "snow."
And what unique "treasures" God may have had in Mind.
The Hebrew noun translated "treasures" is "otzsar," meaning "storehouse!"
Once in fact it is even translated (in the King James Version) "armoury!"
There's no telling what value snow contributes to life on earth!
But for me tonight, as tired as I am, just knowing the Creator of that frozen powder (no two flakes ever alike) is enough to consider.
A meditation about "snow?"
Yes, and here is my favorite "snow verse" in all the Bible …
"Come now, and let us reason together, saith the LORD: though your sins be as scarlet, they shall be as white as SNOW; though they be red like crimson, they shall be as wool."

Isaiah 1:18

Amen!

— Dr. Mike Bagwell