PASTOR DAVID HALL OF THE CAPERTON'S CHAPEL BAPTIST CHURCH NEAR FLAT ROCK, ALABAMA ... WRITTEN DECEMBER 29, 2006: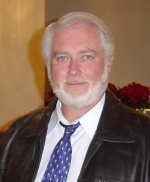 "But, beloved, we are persuaded better things of you, and things that accompany salvation, though we thus speak. For God is not unrighteous to forget your work and labour of love, which ye have shewed toward his name, in that ye have ministered to the saints, and do minister." Hebrews 6:9-10
It is my personal preference not to try to change things about our Church or people too quickly. God will do the changing, just like He does the saving! People do not care how much you know ... until they know how much you care! I practice this in our Church and preach it to God's people as well. When we love people, we are loving God. When I look at the Fellowship God has chosen for me, I remember that it's the Lord's Church, not mine. They are His people, not mine. And I should always minister that way. I want to keep my enthusiasm to live godly, eagerness to preach with passion, excitement to work hard, excellence to be a pattern, and energy to be faithful!
--- Pastor David Hall
PASTOR CHRIS SEABOLT OF THE BELL HILL BAPTIST CHURCH OF MURPHY, NORTH CAROLINA ... WRITTEN DECEMBER 13, 2006:
"When I was asked to write this paragraph my mind immediately thought of a hundred things. As a young preacher I have "messed up" about everything there is that can be messed up in the ministry. Looking back now I can probably account about 95% of all my mistakes in the ministry to impatience. Young preachers should devote the majority of their efforts, unless they know definitely that God is leading elsewhere, to preparation for the ministry. God will place them in the ministry in His Own timing. When that time arrives a young preacher should be ready. This involves lots of study and prayer. Arthur W. Pink said that a preacher is not fit for the ministry if he does not devote thirty to forty hours a week to the study of God's Word! I realize that a young minister who works a full-time job is not apt to be able to study that much (although a full-time preacher could and should), it does show the necessity of preparation. Paul's advice to young Timothy, and the verse that I have adopted as my ministry verse, says: "Study to show thyself approved unto God, a workman that needeth not to be ashamed, rightly dividing the Word of Truth." (2 Timothy 2:15) The word "dividing" in verse 15 has the idea of "dispensing;" like a cook dispenses food! Our job is to dispense to God's little children the proper portions of the Bread of Life. So don't "rush off" trying to find some pulpit, wait on God to open one. In the mean time, redeem each day!
--- Pastor Chris Seabolt
PASTOR FRANK PALMISANO OF THE LIGHTHOUSE BAPTIST CHURCH OF FOLSOM, LOUISIANA ... WRITTEN NOVEMBER 29, 2006:
"My first Pastor said to me: 'Preach what you know and know what you preach!' One of my favorite Preachers said to a young Preacher friend of mine: 'Keep on keeping on in the good times and the bad times!' My Pastor said: 'Just preach Jesus and He will straighten everything out!' I would say to the young Preachers: 'Do the three things above!' Also: 'The only Sure Thing is Jesus ... everything else is subject to change!' Finally: 'Learn to walk on your knees and praise the Lord, no matter what!'"
--- Pastor Frank Palmisano
Brother Frank's favorite Scripture Passage is 1st John 3:1-2. "Behold, what manner of love the Father hath bestowed upon us, that we should be called the sons of God: therefore the world knoweth us not, because it knew him not. Beloved, now are we the sons of God, and it doth not yet appear what we shall be: but we know that, when he shall appear, we shall be like him; for we shall see him as he is."
PASTOR KENNY SANDERS OF THE FIRST BAPTIST CHURCH OF MEREDOSIA, ILLINOIS ... WRITTEN NOVEMBER 7, 2006:
"Things haven't always been like they are today. It is sad to know there is a generation of young folks who have not seen and sensed an old-time move of God. Thank the Lord there are some exceptions. We're in a different day, in the sense that the House of God is no longer the priority of families and homes. We're also being told by the modern Church-Marketers that we need what man-made manipulation and crowd-control can give us. Any adult or authority figure can pressure children to make professions, but Oh, for the day again when God comes in power and lives are eternally changed and all of our tricks are put on the shelf, never to be used again. Young Preachers, don't be duped into thinking that this new singing revival is true revival! Don't fall for the idea that the new-morality Christianity is true Christianity. When God came in days of old the taverns were shut down and clean moral living was the norm. Preachers, get alone with God and get some things settled. Be certain you're saved. Also, be dead certain you're called of God to preach. Then continually pray that God will fill you with His Word and Power! Finally, trust God to give the increase! Stay camped around Jesus' words in Matthew 7:13-14. God's real converts and Church are "the few." The world's church and religion are "the many." Our generation desperately needs PREACHERS who will come from a prayer closet and HOURS of study in the WORD OF GOD ... to then EXPLODE in pulpits across this Land! May we be TRUTH ON FIRE in a day full of lies!"
--- Pastor Kenny Sanders
The Lord willing, other fundamental Men of God will here be sharing their advice with you younger Preachers too! Every week or two I plan to post another article for your encouragment.