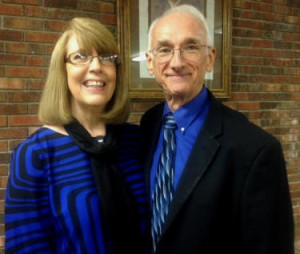 Dr. Mike and Debbie Bagwell
PO Box 1087
Tunnel Hill, Georgia 30755
My Phone Number is 770-844-7627.
This little Page is designed to express our sincere Thanks to each of you who prays for us or supports the preaching of God's Word in any way as the weeks progress.
Thank you for your awesome kindness to us! We love you all in the Lord.
— Dr. and Mrs. Mike Bagwell 
Monday Morning … February 19
, 2018
Our Class Saturday went beautifully well!
From 10:00 (AM) until 2:00 (PM) I had the honor of teaching God's Word, the Epistle of Philemon, to a dear group of the Lord's people.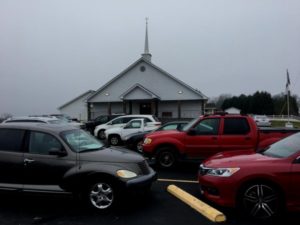 Pretty good crowd!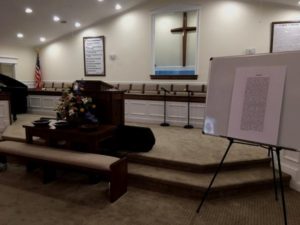 And no doubt a great Bible Text, here shown in large print form, the poster board on the easel. Again, Philemon … with its 25 lovely verses!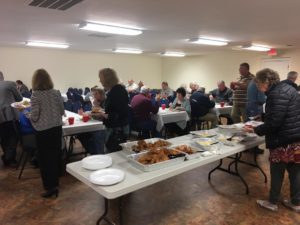 The Church (Sunnyside Baptist) also provided a delightful lunch as well.
Pastor Stan and Teresa Wardlaw, this being a new photo, taken Tuesday night after the Service!
Also (earlier) last week (Sunday through Wednesday) we were in Revival in Greenville, South Carolina. At the great Parkwood Baptist Church, with Pastor Stan Wardlaw and his gracious people. A Revival every Valentine's Week there at Parkwood … for many years now! And I say once again (with praise and joy in my heart) … GOD TRULY HONORED HIS WORD, MAGNIFICENTLY!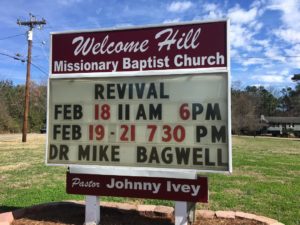 Now this week (as of yesterday morning) I get to preach Revival at the Welcome Hill Baptist Church near Hiram, Georgia. Where Pastor Johnny Ivey and his kind people love God's Word! I've been peaching at this location (different Pastors but same Church) since 1980, praise the Lord! He is faithful!
What a delight, serving our great God!
An Atlanta (Georgia) area radio station has begun airing a short segment each day (Monday through Friday) of one of our Bible Study CD Sermons! I realize most of you cannot hear those broadcasts in a local sense … but they are on the Internet as well … live! At 11:30 this morning (until 11:45) visit WordChristianBroadcasting.com and "click" the "Listen Online Now" tab.
.
---