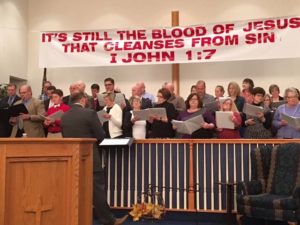 I was preaching in Roanoke, Virginia. The theme for the whole Meeting was "the Blood of Jesus!" The Lord laid Hebrews chapter 9 on my heart, as a Bible Text for my sermons. The picture shows the choir singing about the Blood … just before I spoke.
Today's Bible Lesson …
First John 1:7 proclaims: "But if we walk in the light, as he is in the light, we have fellowship one with another, AND THE BLOOD OF JESUS CHRIST GOD'S SON CLEANSETH US FROM ALL SIN."
This important verse is clearly written to Christians. Actually, only to Christians.
The group to whom John (the author seems to have been John the Disciple, as a much older man) was writing includes himself. "If WE walk in the light …." Therefore he is addressing fellow saints in the Lord. This is an important distinction. (Unbelievers cannot walk in the light, by the way!)
So … we are about to learn a ministry of the powerful Blood of Jesus that is applicable singularly to the Christian man or woman.
"In the light" is a prepositional phrase meaning "in agreement with." The pronoun "he" is Jesus, the Son of God. And the noun "fellowship" is "koinonia," meaning "things in common, things shared with another."
Looks like we have light only because Jesus IS Light! (Listen to the Psalmist, talking to God … "For with Thee is the fountain of life: in Thy Light shall we see light." Psalm 36:9, in God's LIGHT we have our light!) "But if we walk in the light, as he is in the light …"
The "if" (in Greek "ean") is conditional. Some professing Christians do and others (apparently) don't … walk in fellowship with Jesus! Not one of us does as he should, too often we "err" from that sweet harmony!
But if we do … "we have fellowship one with another." What a blessed privilege! There's a progression here. We love and commune with each other as Christians … only because we have first loved and communed with the Lord Jesus!
Wow!
The expression "one with another" is "meta allelon." Meaning "in the company of others of like faith!" Not others radically different in essence! Like Paul asked in 2 Corinthians 6:14, "What fellowship hath righteousness with unrighteousness? What communion hath light with darkness?"
So far, so good … but things now even get better!
The theme of the Conference where I was preaching … "and the blood of Jesus Christ his Son cleanseth us from all sin." This refers to the LITERAL Blood of Jesus, no doubt. (John loves the term "washed" in the Blood. See both Revelation 1:5 and Revelation 7:14 for examples.)
But when John  speaks of being WASHED in the Blood, both times, he uses a PAST tense verb, "aorist" in Greek, action completed. We were washed the very second we were saved … an act of the Grace of God based on faith in His darling Son.
But here in 1st John 1:7 the verb (surprisingly) is present tense! "and the blood of Jesus Christ his Son CLEANSETH us from all sin."
Yes, I carefully checked! "Cleanseth" (in Greek the verb "katharizo") is present tense, for certain!
Now … we are not merely (though gloriously) talking about past forgiveness … but constant, ongoing, durative, habitual, daily (hourly) cleansing!
Being cleansed … moment by moment!
Every second I live as a child of God … walking in His light, loving my brethren in Christ … I am being perpetually cleansed by that Blood, the Blood of Almighty God's son Jesus!
Wow, what a truth!
My friends, consciously live today in that knowledge, that assurance.
Purified … moment by moment.
Hallelujah!
— Dr. Mike Bagwell
If this Lesson is too long, or not clearly explained, our Text Verse … let me know. On the other hand, if it's a blessing, let me know that too. Your responses are always so encouraging! Text me at 770-844-7627.