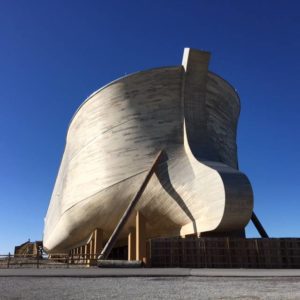 This week, Tuesday, I drove from my motel in Elizabethtown, Kentucky to a little city called Williamsport, still in Kentucky. Where there has been accurately built a replica of the Ark, Noah's Ark of the Book of Genesis. I was overwhelmed in several ways. The sheer size of the Boat being one of them.
Today's Bible Lesson …
Remembering that a "cubit" in Scripture is about 18 inches in length, read with me Genesis 6:15, God's specifications to Noah regarding the dimensions of the Ark. "And this is the fashion which thou shalt make it of: The length of the ark shall be three hundred cubits, the breadth of it fifty cubits, and the height of it thirty cubits."
Wow!
Three hundred cubits long (300) translates into 450 feet! A football field is only 300 feet long, folks. This is a floating giant!
Fifty cubits wide (50) equals 75 feet!
And a height of thirty cubits, which calculates as 45 feet … 8 stories tall we might say. The picture above might help put this into some perspective.
A BIG ship!
A world-wide Flood!
Therefore I am today proclaiming a … BIG GOD!
A God big enough to destroy a wicked earth, death to all its inhabitants but 8 people.
A God big enough to offer Grace to those 8 people, Genesis 6:8. "Noah found grace in the eyes of the LORD." Obviously he had reared his family to follow the Lord as well.
A God big enough to re-people the earth via Noah's 3 sons; Ham and Shem and Japheth.
What I'm really trying to say today is this …
A GOD BIG ENOUGHT (THEN) TO HANDLE ALL OUR PROBLEMS!
To meet our every need!
To answer our prayers!
To be able to promise and fulfill: "Call unto me, and I will answer thee, and shew thee great and mighty things, which thou knowest not." Jeremiah 33:3, where "great and might" mean BIG!
Hallelujah!
— Dr. Mike Bagwell
Here's my text number, 770-844-7627. Someone evaluate the Lesson today!