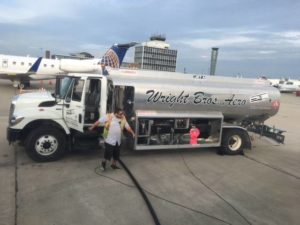 I was traveling from Chattanooga to Indianapolis last Fall, flying. United Airlines has begun a new non-stop route between our City and Chicago, enabling an easy connection back down to Indianapolis.
However, weather played a role in those well-laid plans! Instead of landing in Chicago, avoiding thunderstorms can apparently make a plane run low on fuel, we were diverted to Dayton, Ohio. To fill those tanks again!
You know, the Dayton that was home to two Brothers, the Wrights. Wilbur and Orville, by name. And LOOK at the name of the company with whom United has a fuel contract in Dayton … "Wright Brothers Aero!"
Today's Lesson …
I may be strange, but my belief system works in several different ways. Maybe even negatively, sometimes. I KNOW there is a God because of the presence of evil, of the devil, in this world. If the Bible is right about Satan … it is right about God as well.
That kind of strange!
What's all this got to do with a fuel truck, the Wright Brothers, and flying?
The very fact that those boys "discovered" (not invented) the aeronautical ideas of "lift" and "drag" and "propulsion" and wing shapes and rudder controls (all of which they learned by watching "birds" fly in the air) … proves TO ME that there is a God Who built such "laws" into His world!
Yes, every time I board a plane and am lifted into the air … I worship the God Who "created the heaven and the earth!"
Genesis 1:20 ministered to my soul just this morning. "And God said, Let the waters bring forth abundantly the moving creature that hath life, and FOWL THAT MAY FLY above the earth in the open firmament of heaven."
Wow!
Yesterday as I drove home from a Revival in Kentucky I listened (for a while) to the Air Traffic Controllers in Nashville. As they directed dozens of flights approaching their airport. Man having discovered God's intelligent design!
By the way, if that line of reasoning works for you … it's possible to worship the Lord during a thunderstorm!
Or when seeing a falling star, a meteor!
Or drinking water; one hydrogen atom and two oxygen atoms, two explosive gases quenching my thirst! Extinguishing fires, too! Only God can do such!
And I'll not take the time to tell you how I feel when I see the Ocean, or visit the Mountains!
God's WORKS testify to God's Existence, Power and Glory!
Amen.
All this from seeing a fuel truck out a little airplane window.
— Dr. Mike Bagwell
Now YOU go and look for God today in your life. His Footprints and Fingerprints are everywhere. We just need a little practice observing them.