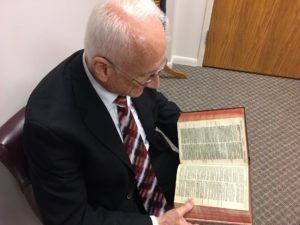 Pastor Tim Fluty (of the Garrison Creek Baptist Church in Connersville, Indiana) owns this 1613 King James Version Bible. I asked him last night after the Revival Service if I could "hold" this little treasure in my hands! The Edition above is the first King James Bible ever printed in this smaller "quarto" size! Most were huge, "folio" size, about 12 by 18 inches!
Now today's Bible Study Lesson …
The people of Israel are being given their respective land areas, in what was once Canaan.
Half the Book of Joshua is involved in this "survey" and resulting "real estate" allotment.
Yet I find this one statement about one of the Tribes, "But the Levites have no part among you; for the priesthood of the LORD is their inheritance." Joshua 18:7
No land, at all?
The Levites?
Well, some cities in which to live, but no acreage! No farms! No vast domain for Levi's children! (And even at that, only 48 cities, total!)
Why?
Because, as our Verse today says:  "The priesthood of the LORD is their inheritance."
The Levites would live off the "tithes" given by the Israelites!
Numbers 18:24 explains: "But the TITHES of the children of Israel, which they offer as an heave offering unto the LORD, I have given to the LEVITES to inherit: therefore I have said unto them, Among the children of Israel they shall have no inheritance."
Two things here I'd like us to see.
First … those who serve God fully (having no other source of income) are to be sustained by the generous giving of God's people! Pastors, evangelists, missionaries … surely these are all included in today's Christian environment. Paul put it this way: "Even so hath the Lord ordained that they which preach the gospel should live of the gospel." 1 Corinthians 9:14
Galatians 6:6 too: "Let him that is taught in the word communicate unto him that teacheth in all good things." Let the learners (at Church) "communicate" (occasionally meaning "give financially") to those (preachers, pastors) who teach them the Word of God!
Paul even went so far as to teach: "Let the elders (pastors) that rule (lead) well be counted worthy of double honour (8 times in the New Testament "double price," double pay), especially they who labour (work hard) in the word (the Scriptures) and doctrine (teaching)." 1 Timothy 5:17
Wow!
The second point … the Levites' homes were to be evenly scattered over the Land of Israel, their little cities in which they were to reside. (Remember, at times they would be in Jerusalem working, serving at the Temple, helping Israel worship.) When "off-duty," they would live in their houses in those little hamlets.
Joshua 21:3 tells us: "And the children of Israel gave unto the Levites out of their inheritance, at the commandment of the LORD, these cities and their suburbs." Then are listed those 48 places, in some detail! The principle here is rather obvious. God wanted some of His men, some who (presumably) would live godly lives, setting good examples, placed throughout all Israel. Teachers on the job (serving in Jerusalem) and still teachers off the job (at home) … both places! Then surely … it must be good to spend time with/around God's choice servants!
Proverbs 13:20 applies here: "He that walketh with wise men shall be wise." Amen! Yet the opposite is true as well: "but a companion of fools shall be destroyed." (That's the entire verse now.)
Wow!
I still think the best way to train a future Pastor (God-called, of course) is to let him spend lots of time with a seasoned godly Pastor … learning his ways!
Think of Paul and Timothy!
Think of Elijah and Elisha!
The Levites … read today's lesson again, they may be still teaching us!
— Dr. Mike Bagwell