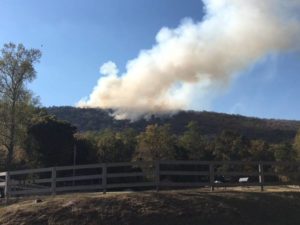 Before we left home Saturday, this forest fire had begun burning … not three miles from our house. Georgia Forestry Commission crews are still fighting it today.
Today's Bible Thought …
It's an unusual verse of Scripture. Mark, the youngest of the Gospel writers says of Jesus: "And the common people heard him gladly." Mark 12:37
In other words, derived from the context of Mark 12, many people did NOT hear Jesus gladly, the intelligentsia and politicians and socially elite!
But "everyday folks" loved Him!
Today, on a Tuesday morning sitting in a motel room (preaching a Revival) in the State of Indiana … I am so THANKFUL that Jesus loved (still loves) "common people!" Because that is exactly what I am!
The Greek here is pretty, but surprising.
The adjective "common" is "polus," meaning "much" or "many" the vast majority of the time. And the noun "people" is "ochlos," meaning "multitude" nearly a hundred times in the New Testament! ("Ochlos" carries the idea, non-pejoratively, of the "crowd.")
In summary … it seems that a handful of individuals hated Jesus (especially during the middle section of His Public Ministry) … but most (the common people) loved Him and were drawn to Him … and listened to Him!
The adverb "gladly" is "hedeos" in Greek, a cognate of the word for "hedonism." They heard Jesus "with pleasure!" It was delightful, enjoyable, hearing the Master.
In our day, when so many choose NOT to listen to the Word of God, we should be grateful for those who do!
And THRILLED that you are among them!
IF YOU REALLY ARE ….
— Dr. Mike Bagwell