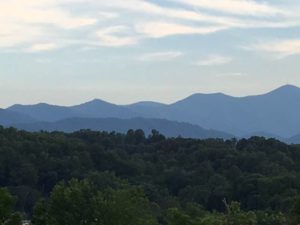 This photo was made from a Church parking lot in Candler, North Carolina, the Blue Ridge Mountains. The first time the "mountains" are mentioned in Scripture (Genesis 7:20) the Flood in Noah's day was being discussed. And the last time in the Bible (Revelation 17:9) the apostate City of Rome is under judgment.
Today's Bible Lesson …
Jesus was crucified on a mountain.
Ascended from a mountain.
And is coming back again to a mountain!
Wow!
Surely when I see those beautiful things (living near them as we do, often driving to Lookout Mountain to study) my mind should be transported toward Bible themes.
Like Psalm 125:2. "As the mountains are round about Jerusalem, so the LORD is round about his people from henceforth even for ever."
Next time you're near the mountains … remember … God's hovering, protective Presence!
I've never been to Jerusalem, but would love to go. I have even thought about doing some airline price shopping and flying over there for a couple of days, just to Jerusalem. I'd love to see the Eastern Gate! And the Wailing Wall! And of course, Golgotha and the empty tomb!
Hey, here's an idea.
Pray for Israel, the Jews, each time you see the mountains.
Read with me (I head this preached two weeks ago) the only specific prayer request in all of the Old Testament: "Pray for the peace of Jerusalem: they shall prosper that love thee." Self-explanatory, isn't it?
OK, lesson over.
Scroll up and look at the photo again … and PRAY accordingly!
By the way, enjoy God's blessings today!
— Dr. Mike Bagwell