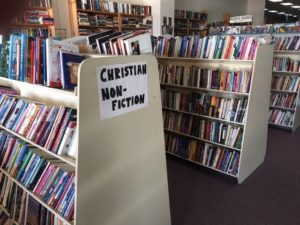 Non-fiction (a literary term) merely means "not made-up!" Not "contrived." Actually the noun "fiction" has a Latin heritage, "fingere," meaning "to form, shape, create!" The "non" prefix of course negates the whole idea. The section of books pictured above (in a used bookstore I visited this week) are all categorized as "non-fiction," meaning they are not novels, not humanly concocted storylines. They are factual!
These shelves (even though only one section of the store) contained hundreds and hundreds of books expounding the Word of God, or some aspect of genuine Christianity. The whole store boasts of 200,000 total volumes!
This sight suggested to me several verses of Scripture, all declaring the Word of God to be non-fiction!
Primarily Jesus' Words in John 17:17. As He prayed to His Father in Heaven … our Lord succinctly declared: "THY WORD IS TRUTH." 
Then I learned that Psalm 119:142 (still a prayer) says to God: "Thy righteousness is an everlasting righteousness, and THY LAW IS TRUTH."
One more statement from the Psalmist, maybe David. "Thou art near, O LORD; and ALL THY COMMANDMENTS ARE TRUTH." Psalm 119:151
Now as I type I am remembering something Daniel said along this line, quoting an angel nonetheless! "But I will shew thee that which is noted in THE SCRIPTURE OF TRUTH: and there is none that holdeth with me in these things, but Michael your prince." Daniel 10:21
Today I am not advocating visiting a used bookstore and scouring their Christian non-fiction area. I am rather encouraging us all to spend more time in the WORD OF GOD! Which is a beautiful Library within itself!
This is what happens to the man or woman who thinks upon Scripture, habitually and deeply … "he shall be like a tree planted by the rivers of water, that bringeth forth his fruit in his season; his leaf also shall not wither; and whatsoever he doeth shall prosper." Psalm 1:3, Wow!
The Bible … certainly NON-FICTION!
— Dr. Mike Bagwell
The books pictured above are located in an establishment called "The Book Cellar," about 3 miles off Interstate 40 in the city of Crossville, Tennessee. I bought a number of little commentaries and sermon collections, most for only $1.00 but not a one over $2.00.
By the way, Debbie and I wish you all a HAPPY THANKSGIVING!
If you have a comment or question on today's Lesson, feel free to text me at 770-844.7627.